Response Letter to the following article:
How Not To Promote Laser Therapy By Jan Tunér, DDS Lars Hode, DrSci (Swedish Laser Medical Society) and Peter A Jenkins, MBA (Australian Medical Laser Association)
Some of my customers and readers who don't have a strong personal experience with cold laser therapy and the Scalar Wave Laser are leaning towards the skeptical or cautious side, and doing some intelligent research before making an investment. If you are among these people then you may have found a couple of the posts online that I have seen where someone has written some negative remarks about the Quantumwave/Scalarwave product or company. Of course this is normal in a free and competitive market place, however, much of what is written may be untrue or malicious in nature due to hidden motives. The following info will help you to separate the noise from the truth and hopefully alleviate confusion and create peace of mind.
In the article I refer to above, these laser users, researchers and possibly laser marketers Jan Tunér (DDS), Lars Hode (DrSci) and Peter Jenkins (MBA) reveal some interesting information. They write about sales tricks that laser manufacturers use to sell their lasers and they write about the different classes of lasers, Class IV higher powered lasers vs Class 1-3 Lower Powered Lasers, and they also write about wavelength, power density, continuous wave, pulsed/chopped and super pulsed wavelengths. Which is better?, and who is right? and when is one better than the other? All of these factors are simply too overwhelming for the average consumer, and even the experienced practitioner to absorb, assimilate and to draw logical conclusion from, yet they appear to be bashing most laser manufacturers based on technology that they each claim to use in their laser, which these writers find debatable.
How do we know where to draw the line between bias, real research and quackery? 
In the article they write about a multitude of competing laser manufacturers. I know all of them well because I have worked extensively in the health and therapy industry for 30 years and specialized in the therapeutic laser industry for 15 years full time. After therapeutic cold lasers gave me my life back in 2002, I vowed  to make it my life's work to share this technology with the world. I am excited to help reveal the many merits and benefits of this exceptional technology so that more people may benefit from using it. The authors commented about the Soliton theory in the Q1000 laser (I have owned 3 of them and they are good lasers), they write about the Scalar Wave Laser and put it down, not due to anything about performance, effectiveness, diodes or wavelength, but simply because they are clearly too closed minded and scientific to even give it a try (I own several Scalar Wave Lasers and they work very well), they write about the Terraquant Lasers and other super pulsed lasers (I own several different super pulsed lasers and they work quite well). So, who is right? Which laser is the best? All great questions. Let's continue with the article overview and find out.
Later in the article the authors write:
"We recommend, instead, availing yourself of high-quality research published peer-reviewed journals, informative manuals and qualified seminars, rather than automatic settings. Use palpation, your own physiologic knowledge, your patients' feedback and your experience to guide you in your choice of parameters."
Note: They appear to be selling manuals, books and seminars in Europe on laser therapy. 
Finally they deliver some good advice.
They are simply stating that even though a great deal of scientific and peer reviewed research does exist about the many benefits and merits of therapeutic lasers, there is still no one size, one protocol or laser setting that fits all scenario. Different lasers offer different benefits and there are many ways to use a therapeutic laser. Numerous factors come into play to produce good results with therapeutic lasers. 
Near the end of the article the authors write:
"High power – low power There are two extremes on the market – those promoting very low power output and those promoting very high power output. Which is best? The answer is: none of them. There is no "one size fits all" laser. Each one has its limitation. There is an increased awareness about the necessity to deliver fairly low doses over longer time to optimize anti-inflammatory results (Castano et al 2007,http://www.ncbi.nlm.nih.gov/pubmed/17659584 as one example). This means that, at least for healing processes, low power over long time is more effective than high power over short time, even if the total energy is the same. The same goes for stimulation of cell proliferation. For temporary analgesia of painful conditions, high power over short time can give a better momentary effect, subject to certain minimum-time and maximum-power thresholds……..
Conclusion:
Very high powered lasers (these are the expensive ones known as Class IV lasers for practitioners ONLY) are useful for treating large areas in short time and to obtain pain inhibition, but seemingly less effective for basic cell stimulation. These high powered lasers do not penetrate much deeper due to the high output – in fact, the very act of making a high power laser 'safe' for long-duration exposures may make it less capable of penetrating as deeply as a lower-powered laser that can e.g. be applied in contact and with slight pressure to the skin. All types of medical lasers are useful within their own limitations, but the very high powered lasers are still lacking scientific documentation in spite of their increasing popularity with salesmen and their less informed customers. 
Note from Kalon Prensky - 15 year laser specialist.
I like many different lasers and have used dozens of them over the years. I particularly like the Scalar Wave Laser for numerous reason which I describe on my website at www.DiscoverLasers.com
Now that you have read my response to: 
"How Not To Promote Laser Therapy", I would like to invite you to learn more about why the Scalar Wave Laser is a perfect choice for all of your cold laser therapy needs.
Welcome to the Scalar Wave Laser Information Overview
I'm glad you gave me an opportunity to provide you with some information about the Scalar Wave Laser therapeutic laser equipment and EMF purification device (QiFi) for optimum success in health and life. 

ScalarWave Laser is FDA CLEARED
FDA CLEARED, Health Canada Cleared, TGA Australia Cleared and CE Cleared for Europe & the UK! With an FDA Over The Counter (OTC) Clearance, Scalar Wave Lasers are equally desirable by home users and seasoned practitioners alike. These esteemed clearances have paved the way for active distributors such as myself to share this amazing technology with health minded people worldwide.
Scalar Wave Laser Clearance According to the FDA:
"Indications for Use 510(k) Number: K091158, Device Name: Scalar Wave Laser System, Indications for Use: The Scalar Wave Laser System is indicated for temporary relief of minor muscle and joint pain, arthritis and muscle spasm, relieving stiffness, promoting relaxation of muscle tissue, and to temporarily increase local blood circulation..."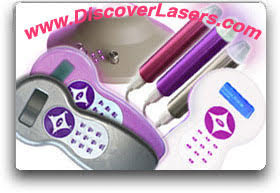 Over 30 thousand customers from the US and around the world are experiencing great results with our high quality laser healing and pain relief system. This is without a doubt the best all around pain relieving, skin rejuvenating and transformational healing tool I have experienced in over 30 years of working with the healing arts. Best of all, it is super easy to use, and so safe that I even let my children use it. It is truly a must have device for the whole family. It's also effective for cats, dogs and horses. The Scalar Wave Laser is the most all around amazing therapeutic Cold Laser that I have used in my 15 years of working with lasers for pain relief, health, healing, injury recovery, anti-aging, Arthritis and inflammation management, regeneration and rejuvenation.
As you might know by now, my name is Kalon Prensky and my office is located in Maui, Hawaii. This has been my area of specialty for over 30 years, with 15 years of full tilt working with and distribution of over 30 different therapeutic lasers. The Scalar Wave Lasers are my favorite. Someone who cares about you may have referred you to me. I'm happy to be of service and help you to learn more about this amazing technology. I am passionate about helping to empower people to help themselves naturally, free from drugs and surgery whenever possible. I teach people to use advanced transformational tools and technologies to get out of pain and shift their lives in a positive direction. 
If you would like to watch videos in addition to reading, please scroll down to the yellow highlighted area below and you will see 3 links to 3 short, recent videos of me speaking at a laser gathering and showing the Scalar Wave Laser and probes.
Anyone can buy a laser, but not everyone will be able to use a laser effectively without good instructions or the right laser. That's what sets me apart from the pack. I have extensive experience, I have the best and easiest laser to use, and I can answer most of your questions and teach you how to use it most effectively. I will provide you with exceptional training materials from our exclusive Cold Laser Therapy Training Program, which is only available through Discover Lasers LLC. 
This comprehensive and exclusive training program is rushed to you the moment your payment is processed through Discover Lasers LLC, and at no additional charge for customers of Discover Lasers LLC. This training material is based on my work with hundreds of practitioners and thousands of customers over my 3 decades of work in the healing arts, and 15 years of using dozens of lasers in the field. My training materials ensure that all of my customers get up and running with the Scalar Wave Lasers quickly and effectively. 
This laser technology isn't just for practitioners anymore. 75% of my customers are home users who are now safely experiencing the many benefits of cold laser therapy in the comfort of their own home on a regular basis. Additionally, many of them are also sharing their laser(s) with their family members and friends and getting great results for treating all kinds of issues, including issues with children and pets.
I look forward to connecting with you and providing support and answering your questions about this fascinating subject that is finally getting the extra attention that it deserves. Why? Because it is the most advanced healing, balancing and pain relieving technology available today; it's FDA cleared for the widest range of treatment options; it's an extremely safe and proven technology with a 40 year proven track record. The Scalar Wave Laser is a perfect compliment to support your home health and pain relief program, or for any kind of wellness or Chiropractic clinic, and it has been rapidly gaining in popularity over the last 10+ years as the company has grown and spread its technology to Europe, Australia, Canada and Mexico.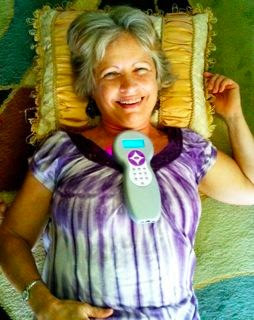 Your interest in the Scalar Wave Laser is important to me and I want to make sure that you get all of your questions answered. I have compiled years worth of research and study into this website: www.DiscoverLasers.com
and I would like to encourage you to use it as a resource for learning about what sets this unique laser head and shoulders above the rest of the lasers out there.  
There are many links to informative and educational pages on my website. I highly recommend that you start out by reading these two articles: 
Healing Process Revealed  &  Home Laser Therapy,  
and then proceed from there to explore more of the links from the site that are provided below and of course in the website www.DiscoverLasers.com :
Click to see 
Sale Prices Page
 
for Details & AMAZING Discounts 
I have 3 short videos that were recently taken of me talking about the Scalar Wave Laser (SWL). 
I have included links below in case you wish to watch them. 
Here are some INFORMATIVE Laser Education VIDEOS with laser specialist Kalon Prensky:
Additional Laser Video Testimonial Links:
Benefits of Scalar Wave Laser Cold Laser Therapy Include:
Pain Relief for back pain, neck pain, shoulder pain, knee pain, leg pain, foot pain, elbow pain, wrist pain, hand pain, finger and thumb pain, head pain and hip pain
Stress Relief - & Adrenal Rejuv
Skin Rejuvenation
Anti-Aging & Cellular Regeneration
Organ, Gland & Chakra Balancing

Acu-Light Therapy - allows for easy and quick treatment of all the minor and major acupuncture points throughout the body
Trigger Point Therapy
Auricular Therapy
Addiction Therapy
Cellular Healing on all levels
Provides instant ATP to cells
To learn more about the SWL, visit www.DiscoverLasers.com
At the top of every page are numerous links that will support your further education about this amazing, life enhancing technology.
If you would like to place an order, we have 6 different packages to choose from and you can see a description of each package here: http://discoverlasers.com/order
I personally love the Scalar Wave Laser System for many reasons. 
My experience with the SWL is that it does everything that most other lasers can do and much more. It is extremely easy to use and the shape and portable design are exceptional. It has more diodes, more power (more than many lasers and less than some, but enough to get the job done), far more capabilities and flexible user options, more probe choices, exceptional violet laser technology, deep penetrating Infrared Laser, scalar technology, digital technology with easy to use and comprehend user interface, and it produces great results for a wide range of conditions. It also has a very comprehensive FDA/OTC clearance. The best I have seen in the industry.
The Scalar Wave Cold Laser System is made possible by several unique and patent pending technologies including the scalar wave technology, which is prized for its unique ability to dissolve cellular memory. The Scalar Wave Laser (SWL) combines optimum cold laser technology with advanced digital quantum technology features available only with this laser. You will receive unique and effective protocols, an easy to operate user friendly digital interface, a fantastic Quantum Referral opportunity, and all the support necessary to help get you up and running in the shortest time possible.
Greetings Friend,
If you are learning about this laser for the first time then I hope that you will take some time to read through the comprehensive information that I have gathered here for you. I congratulate you on being willing to explore and investigate what I believe to be the greatest healing technology of the 21st Century. I have been blessed to witness hundreds of people heal themselves from countless conditions with Low Level Laser Therapy (LLLT) over the last 15 years. It often works for treating conditions that don't respond to conventional medicine, electric stimulation or ultrasound, or that were previously treated with drugs or surgery (and even then results were questionable).
Why do therapeutic lasers work when all else fails? ENERGY! It's because of the usable form of energy that the laser delivers to the cells, which the mitochondria inside each cell can immediately convert into ATP, which is the preferred energy source for all cells in your body. Now, with the Scalar Wave Laser you have a choice. When drugs or surgery are not an option or a preference, laser therapy comes to the rescue. I am dedicated to promoting awareness of how to use this revolutionary multi-wavelength, blended light, energy delivery technology, and the power of intention, to heal and transform as many lives as possible.
As you know, Doctors, scientists and physicists the world over have concluded that our bodies are composed of at least 70% water; that our cells communicate with each other via light and electrons; and that by focusing the intention of our minds upon a subject or desire, goals and dreams can become reality! So how can we harness this knowledge to empower our minds and bodies? Let's find out...
DISCOVER the Power of readily available ENERGY for your body/cells - All 75 Trillion Cells in Your Body Need Energy.
The Scalar Wave Laser can immediately deliver much needed energy and electrons directly to ailing cells in record time. ATP is the fuel that supports all cells and powers all functions in your body. When that fuel runs down, a myriad of different systems can suffer. The Solution is to use the Scalar Wave Laser to deliver photons to the ailing cells. The Mitochondria in your cells immediately converts photonic energy to ATP & PRESTO - Healing and rejuvenation is initiated.
DISCOVER the Miracle of your BRAIN - The Pharmacopia of your brain is in many ways superior to a drug store and can immediately provide your body with pain relief and calm the mind body connection, when it is influenced in a positive way with therapeutic lasers. These lasers naturally activate a healing response at a cellular level. Cold lasers have been shown in numerous studies to activate the release of natural hormones, endorphins and enzymes that ease pain, alleviate inflammation and make you feel better. 
The ScalarWave Laser can immediately activate much needed endorphins, enzymes and chemical reactions that support the body in countless ways.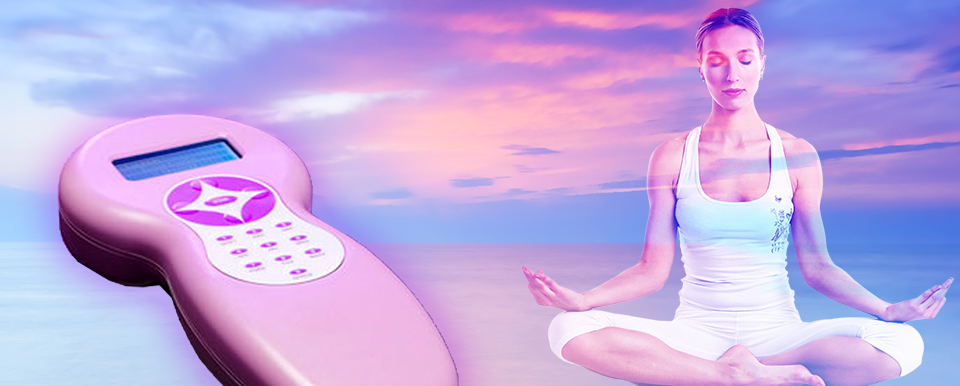 ENERGIZE & ACTIVATE YOUR INNER HEALER.
We all have an inner healer, a perfectly informed part of ourselves that knows exactly what to do to heal itself. In situations of compromised health or dis-ease, our job is to provide our body with the best sources of energy, impulses, electrons and a relaxed or neutral terrain for our inner healer to work. The Scalar Wave Laser is the perfect tool to use to ENERGIZE & ACTIVATE YOUR INNER HEALER. The SWL unleashes a torrent of energy, impulses, electrons, resonance, coherence, and harmonics to support attunement.
The Scalar Wave Quantumwave Laser is a holistic therapeutic tool, which combines multiple healing technologies in a compact, portable, hand-held device. It generates powerful coherent healing laser energy from the two most researched and utilized healing laser spectrums, providing a total of 40 mW of Red Laser energy and 40 mW of Infrared Laser energy. Additionally it provides a total of 100 mW of narrow beam Violet LED light healing energy. At the same time it creates an energized Scalar Wave field, while simultaneously sending multiple waves of therapeutic healing energy into the body. The result is a beautiful synthesis of Healing Energies that support the body and mind in dropping down into a parasympathetic nervous system dominant state. The "rest and digest" state, which is most conducive for healing and rejuvenation.
This combination of 5 different healing energy technologies in the Scalar Wave Laser provides you with a coherent healing tool of uncompromised therapeutic value. It allows you to work on multiple levels of the body with a single device. The SWL will literally ENERGIZE & ACTIVATE YOUR INNER HEALER, supporting you at the highest level of your being. The application of SWL therapy provides coherent multi-spectrum healing on a cellular and energetic level as revealed by significant changes in the blood in a short 20 minute period of time.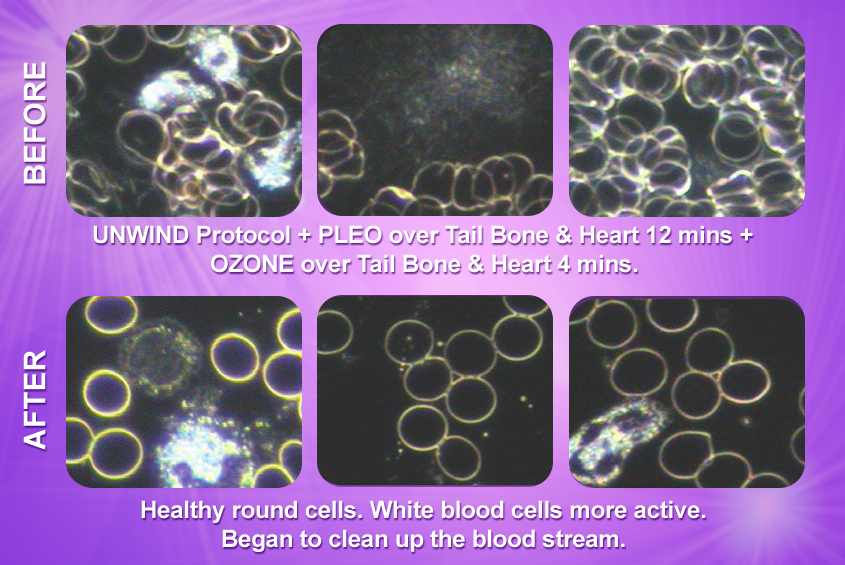 The Scalar Wave Laser works through the combination of all 5 therapeutic technologies, which are intelligently designed to work synergistically together in providing ideal life-supporting energies to the body.
The Scalar Wave Laser has 3 optional higher-powered laser attachments called Pulsar probes in the Red, Infrared and Violet laser spectrum, allowing for concentrated treatment of soft and hard tissues and quantum biological processes. These powerful laser probes provide an added measure of healing capabilities such as being able to work on acu-points, meridians, trigger points, myofacial points, auricular points, joints, facial therapy, wrinkles and fine lines, cranial laser reflex therapy and to send more concentrated energy to a smaller area much faster. More power generally translates into faster treatment times and deeper penetration in some cases.
Energy information medicine is a rapidly growing field that is gaining significant momentum around the world thanks to our greater understanding of Quantum Physics. Quantum Physics reveals to us that everything at its most basic level is and responds to energy and vibration. That thoughts and emotions also consist of vibrations, and that vibration carries information, which is why physical health is affected by mindset and emotional state. The physical body responds to vibrations in the same way that it responds to the presence of chemical substances. SWL therapy provides a comprehensive method of delivering quantum levels of vibrational impulses to the core systems of the body to ENERGIZE & ACTIVATE YOUR INNER HEALER.      
OVER 250 COLD LASER THERAPY PROTOCOLS NOW AVAILABLE IN NEW eBOOK & AN ADDITIONAL 250 PROTOCOLS IN THE NEW BONUS eBOOK FOR A TOTAL OF OVER 500 PROTOCOLS.
NEW eBOOK - Cold Laser Therapy - Over 250 Protocols made easy – the 22 AcuPoint HEALING SYSTEM. Bonus: Includes two popular Auricular Therapy Charts and a dozen more for hands and feet, allowing for many additional treatment options. The second Bonus eBook contains an additional 250 picture based protocols for a total of over 500 protocols.
I have been a Cold Laser Specialist for over 14 years.
I am the Founder & President of DiscoverLasers.com
"I've been sharing health and wellness products since 1990."
"My commitment to discovering, testing, using and sharing state-of-the-art health supplies & equipment is second-to-none.   I've personally witnessed many peoples' lives be transformed by the use of cold lasers. In fact, the reason I started my cold laser business in 2003 is because of many personal successes using cold laser therapy equipment on myself and others.  This was before Scalar Waves were used and the Scalar Wave line was invented."
"Today, the Scalar Wave Laser represents the culmination of many years of research, testing and hard work. It is truly the best hybrid cold laser therapy product on the market, and the Low Level Laser Therapy system that I personally use all the time to support healing, pain relief, anti-aging, energetic balancing, emotional clearing, rejuvenation and regeneration on a cellular level."
"You may reach me at 808-870-0348.
I look forward to speaking with you!"